Creating Art On Your Computer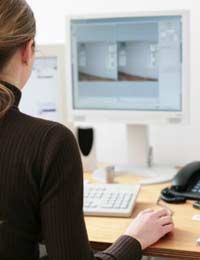 There's so much you can do on the computer that draws in the whole family, well beyond finding information, shopping or consuming entertainment. Creating art is the perfect example. It's something everyone can enjoy – kids love it – and it's a very creative use of your computer, creating your own pictures just for fun or to keep.
Of course, it's just one of many creative things that can be done on a computer, but it's something that's open to anybody, with no prior skill needed; in fact, when it comes to creating art on the computer, everyone is starting from scratch. Whether you can draw or not doesn't matter.
Using Your Computer to Create Art
There are so many different types of art you can make on your computer. You can do something very simple, such as create colour drawings in Paint on your PC. With a free, simple photo editing program you can alter family photos in all manner of ways – a sort of remix, if you like.
Look around and there's plenty of software available to allow you to do almost anything. Photoshop, for instance, gives you the chance to create from scratch or work with photos, to draw, colour, even make your artwork 3-D. Other programs can allow you to produce your own animated drawings and create a cartoon.
Some are quite complex and take a while to master, whilst others are aimed deliberately at a younger audience. Look around online and you can find some programs for free, although others – like the full Photoshop – can be very expensive (although there is now a free Photoshop Express with limited capabilities).
All the programs come with instructions to get you started, but from there it's a matter of using your imagination and developing your skill. There are plenty of artists, very good ones, who work exclusively on the computer, while others prefer to work on paper, scan in what they've done and use programs like Photoshop to enhance what they've done. The possibilities are quite endless.
With kids you'd be well advised to start with something simple and child-friendly – there's certainly plenty out there – and once you've all gone through the basics, just let them play and see what pictures they can create.
Preserving Computer Art
Once you and your kids have created something, what do you do with it. It's quite simple to save it as an image, be it a .jpeg, .bmp or .gif file. Simply make a new artwork folder in your pictures section and copy it there. You can, of course, also print out a copy and display it on the fridge, much as you might do with art the kids bring home from school. These days you can also send your finished work as a jpeg or gif to many online photo service providers and get a poster or canvas made quite cheaply.
Ultimately, of course, it's doesn't matter whether the art is outstanding or not. What's important is the creation, and the fun the whole family has doing it.
It's an excellent family activity for rainy days and winter evenings, one that can bring you all together (making your own animation only takes a little time and there's a real feeling of accomplishment when you play it back).
The creativity aspect is important, because it reminds you of the possibilities of the computer, and the many ways in which it can be enjoyed. As well as being useful for many things, the computer can also become one of the most versatile toys in the house!
You might also like...