The Importance Of Firewalls and Antivirus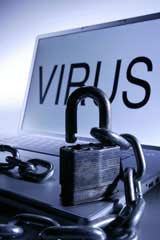 People will tell you over and over that at the very least you need a firewall and virus protection, known as antivirus, to protect your computer from hackers and malware. It's true, you do need those as a minimum.
You can download them for free, with many different options for providers, or you can pay for them, either as downloads or on CD. They can be separate or bundled together with other features like anti-spyware for what's often termed total protection. With so many choices it can seem confusing as to what you really do need and why.
Make no mistake, though, both a firewall and virus protection are vital to the safe operation of your computer. Without them, hackers can access your computer and take control of it remotely, give you viruses that can also control your computer, cause it to run slowly and steal your passwords and personal information.
What Does a Firewall Do?
Think of your computer as your property, a house and garden. The firewall is the wall built around that property to keep bad things out. In essence it keeps an eye on everything that goes in and out of your computer via your connection online, guarding the ports (think of them as gates) to make sure nothing bad infiltrates.
Windows PCs come with a Microsoft firewall, called Windows Defender, built in. Many people however, prefer to add their own, and there's a huge choice, both paid and free.
You can set the security level, although the default should work well in most instances. Once you've downloaded and installed the firewall of your choice – or installed from a CD – you'll need to set the levels. Initially, allowing different levels for different software can be a little time-consuming. Once that's established, however, there's very little more you'll ever have to do, other than make sure the firewall is operative. A good firewall will repel most probing hack attacks.
It's impossible to be 100% effective against every threat, but for home use a good firewall should give perfectly adequate protection. Ask friends for recommendations and read reviews online. Just make sure that as soon as your have your computer connected online, you have a firewall running.
What Does Virus Protection Do?
There are plenty of people who want to spread computer viruses. Sometimes it's purely to be nasty, but more frequently it's for criminal purposes. Depending on the type of virus, your computer can become what's known as a zombie, meaning it's part of a botnet, under the control of someone far away and sending out spam without you even knowing it, or it might be that the sender will be able to access your passwords and personal information. Neither is a good scenario.
Virus protection stops that happening by blocking the virus from infecting your computer. It does need to be updated regularly. Many will do this automatically whilst you're online, but others will need to be updated manually. Do it daily or every time you use your computer.
Likewise, you need to run a virus scan on a very regular basis, at the very least once a week. Many options will allow you to schedule this automatically; in other cases you'll need to do it manually. Some viruses do get past your virus protection, which is why you need to scan. If discovered, your virus protection will isolate then delete the virus.As with a firewall, you can pay for virus protection software or find perfectly good free alternatives online.
Bundles of Firewalls and Virus Protection
Rather than having a separate firewall and antivirus, you can purchase bundles that have the two together for total protection. Only having to deal with one installation and piece of software can be much easier for some people, and it's faster, and will often include antispyware software, saving you finding that, too. Ultimately, there are no intrinsic advantages to having these items separately or together; it's your choice. But whichever way you choose, do absolutely make sure you have them on your computer, and use them.
You might also like...