Kids and Gaming on the Computer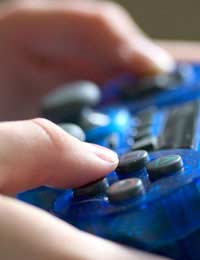 Kids love gaming, it's as simple as that. They discover it at an early age, and soon it becomes a passion for many – it really doesn't matter whether they're boys or girls. They get, or more accurately, are bought game consoles like an Xbox 360, a PS3 or a Wii (not to mention handhelds like the Nintendo DSi), but those aren't their only options. Gaming is definitely an occupation for the computer – well, at least for the PC, since many games aren't set up to run on Macs.
Many games that come out for consoles also arrive for the PC, but there are also more, a whole world of online gaming, which can be playing against friends or the virtual world, multi-player games such as Runescape or World of Warcraft where you create and keep a persona, and can often buy or download additions to the game.
How Much Gaming Should Kids Do?
When they're gaming, it's amazing how kids can lose track of time. They can spend hours involved in a game, whereas it can seem like torture to make them start their homework.
That's the problem, it's easy for them to lose entire days stuck in front of a screen. Of course, they feel they're doing something constructive by playing a game. But should you limit the amount of time they spend gaming on the computer, just as you might limit time online.
To answer that, a lot depends on the ages of your kids. If they're younger, then yes, you need to impose strict limits – kids need to get outside and play and spend time with friends. As they become teenagers then it's somewhat harder. They want more independence, so it can become a matter of negotiation, rather than order.
That's fine – you have to give them more freedom as they grow older. But that doesn't mean an open licence to spend all day with computer and online gaming. There are other things in life they have to attend to, as well.
The Types Of Computer Gaming
Computer games come in several different styles. There are basic online games like chess, backgammon and others you can play against friends through social networking sites or instant messaging sites. Those are simple fun.
There are also the games you buy or disc (or pay to download), and these will be the same as the games available to gaming consoles, as well as older games now available for the PC. These are useful as a way to play the game if you don't have a console or the right console.
Finally, there are the big, multi-player online games. These truly are massive, often with several thousand people from all over the globe playing at any one time, and kids (not to mention adults, too) can easily lose themselves in them. Many have a subscription model, which means spending money every month, but if it's something your kids definitely enjoy, it can be worth the expense.
Computer Gaming Safety
We tend to think of gaming as a safe activity, but if it happens online, that's not always the case. Many purchased games allow users to play against each other, which means communication, while anything involving plenty of players can bring threats.You need to remind your kids about the basic safety online – not revealing information about themselves and certainly no personal or contact details. Where gaming is competitive tempers can flare, so it becomes especially important; there have been instances of real life physical violence and even murder following conflicts in online games.
You might also like...