Playing Games Online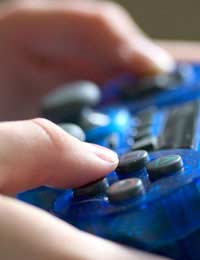 Gaming is very popular, and video games are designed for all sorts of game consoles as well as the PC (in most instances Mac users lose out, unfortunately). But the Internet has opened the possibilities for games, meaning that people can play together or against each other online.
That makes gaming into a community activity, one that works not just on the PC, but also on game consoles, most of which allow for online play if hooked up and a subscription paid.
Although many different people in families do play video games, it's the children who'll find them the most attractive, and there's multi-player gaming available for pretty much all ages these days.
The Types of Online Games
Many video games, both for PC and consoles, offer online play these days. That can be very fulfilling for someone who's completed all the levels and wants more of a challenge or more fun. It's also a way to get advice to complete the game.
Computer games offer something you can't find with consoles, or at least not in the same way. The kind of multi-player online role playing games, such as World of Warcraft or Runescape, mean users cane experience different kind of games, where they interact in real time with other people from all over the world who are also playing the game. They can also indulge in text conversations and often gain buddies they can chat to whenever both of them are online at the same time. These work with both PC and Mac.
It's a sector of video games that's grown wildly, with games available for children and adults, where they can take on roles and live lives –building houses and so on. The Sims, a bestseller among video games with many offshoots, is a prime example, allowing the person playing the game to take on a personality and build a full life around that, with relationships, property, a job – everything.
On the more adult end, Second Life is a multi-player game where players take on personae and can enjoy everything – including sex.
The Advantages of Online Games
There's a great deal of fun to be had with online multiplayer games. The developers will add events for different times of year, such as Christmas or Easter, and will offer regular updates, opening new worlds (as they're known) to users to explore.
Depending on the game, the monthly subscription is low. Many will let you play for free, although the number of things you can do will be limited. However, it's worth playing without a subscription for a while to judge whether you enjoy it enough to spend money on it (or spend money for your children to use it).
The Disadvantages of Online Games
Online games can become ridiculously addictive, meaning a lot of time on the Internet and in front of the computer, which isn't a good thing for anyone, especially children. That means you need to set limits on play for your kids. How much depends a lot on their age, but even teens shouldn't be spending all day playing an online game.
There's also the safety question. There's simply no way for them to really know who they're talking to, the person behind the avatar on the screen and the words. Some predators do use online games as a way to find and groom children to eventually meet.You need to warn your children about the possibility, to tell them about safety, such as never giving real age, home address or phone number, or revealing much about themselves, all the common sense things. After an online gaming session ask them about people they talked to, and get information. It's all for your peace of mind.
You might also like...