Things You Didn't Know About: Social Networking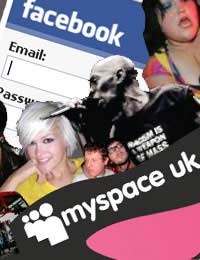 Social networking is one of the big Internet stories of the last few years. There is a lot of confusion (amongst older people particulary) about what these sites are, why they exist, how to use them and who uses them.
We've put together a list of things we think you might be interested to know about social networking sites, either for your own use or to understand more about what your family is doing online.
1. Age Limits
Not all social networking sites are the same. Some are specifically designed to target school age kids and as such have more child friendly content (although this is still largely un-moderated so don't assume that these sites are 100% child friendly).
The main social networking sites have a lower age limit of 13. This is still pretty young considering the content that can be found on some of these sites so if your child wants to start exploring social networking sites you might want to set some ground rules
2. Choose Your Privacy Settings
When you're setting up a profile on one of these sites you can choose whether it's visible to everyone or just selected people. If you choose for your profile to be public it may appear in search engine results as well as being visible to other members of the networking site.
3. They Can be Addictive
Internet addiction is a widely recognised problem with a range of support groups. If you're spending more than 40hours a week online it could be that you have a problem. Social Networking sites, because they are interactive and rapidly changing have been cited as specifically problematic.
4. Employers Use Them to Screen Applicants
Be careful what you (or your kids) post on social networking sites as more and more employers are running Internet searches to check out potential candidates before hiring them. In a recent case a teacher was fired after 'inappropriate' images appeared of her on a social networking site.
5. They've Launched Stars' Careers
Some social networking sites provide young talent with a platform to distribute their work and some of today's biggest hits are famous at least in part through their online followings. These sites have had a major impact on the music industry and no self respecting pop act these days can afford not to have a presence online. If you or your teen (or maybe the whole family?) have got musical leanings then get online now.
6. Anything Posted on a Social Networking Site Belongs to That Site
This might seem fairly innocent – what use could they possibly have for your idle chatter with your friends? But if you post photos or other media to share with your friends the social networking site then has the right to use those images for their own ends. So it's possible the photos you posted of your child's last birthday party could suddenly appear as part of an ad campaign with no permission request, and no payment.
It also means that any information (including contact details) you have stored on your profile remains the site's property not your own. So if you have real friends who you only contact online through a social networking site you might want to check if you have alternative contact details, just in case.
7. Most Social Networking Sites Don't Guarantee the Security of Your Private Information
This is largely just to cover them in case of a legal dispute but it is worth thinking about. Do you really want hackers to have access to your name, date of birth, home town, pet's name and your email addresses?
8. Social Networking is Big Business
Social networking sites might have started out as community based networks allowing like minded people to connect but they're now big business. AOL owns Bebo, Rupert Murdoch's NewsCorp owns My Space and Facebook is the subject of constant takeover rumours involving huge sums of money. Today's social networking sites exist to make money through advertising and through selling consumer information about our likes and dislikes. These sites give advertisers and market researchers unprecedented access to kids' and teens' preferences.
You might also like...