When Should Children Start Using Computers?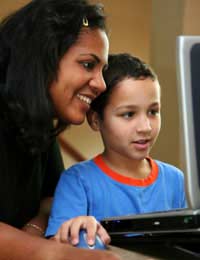 Computers are a part of life these days. Your children will need them in school and all the work they do after that. The more familiar they are with computers, software and the way everything works, the better prepared they will be for life.
School will teach them a great deal in all those IT classes they'll take over the years, but they need to use computers at home too, in order to feel completely confident on them. Even playing games and having fun on them becomes a form of education.
But what's a good age for children to begin using a computer?
Should Children Use Computers From A Very Young Age?
There are those who advocate introducing children to computers at a very young age, when they're around two years old. Certainly there's software available that would entertain them at that age.
What can children really do on a computer at that age beyond stare at the screen? You can point out which key to hit, but at that age they're not likely to remember from one time to the next, and their attention spans are small.
That said, it does get them used to the idea of being at a computer.
By the age of three and certainly when they're four, they can operate some very simple games by themselves, and you can readily find a large selection of computer games for this age group.
The computer should not become a kind of baby sitter, occupying the attention of your children for a long time while you do other things (as can sometimes be the case with television). It should just be for a little while and you should supervise the sessions.
When Can Children Use Computers Alone?
Although you should take time with your kids when they're using computers, especially a new game – and games are the ideal way to introduce kids to computers as they're both entertaining and educational – there comes a time when you have to step back a bit and let them go solo.
Stay close, but let them work through familiar computer games alone, but be available to answer questions and show how to navigate if they need it.
Children And The Internet
The Internet is an important part of computing and your children will be using it a lot. At the same time, you need to make sure they're cautious. Once they're familiar with using computers is a good time to start them on the Internet.
Guide them through it several times, and bookmark some appropriate sites for them, show them how to get to them. Once they're used to that, let them work alone, but tell them to call for you if anything strange happens. That means things like pop-ups or anything unusual, and they shouldn't click on anything that's not part of the site.
You'll find that at first they'll call you a lot, and that's fine, it's what you really want. In time, however, they'll become used to dealing with things alone. There will be mistakes, but that's only natural, so don't get angry. Explain what happened (or what you think happened) and how to avoid it in future.
Put everything together and by the time your children start school they'll feel at home using computers, which can offer them a vital head start.
You might also like...