When Should Kids Be Allowed On Social Networking Sites?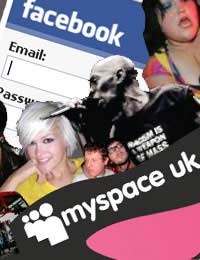 Social networking sites are now a way of life on the Internet. It can be the big ones, such as Facebook, MySpace or Bebo, or even those more related to work, like LinkedIn. People use them to keep in contact with friends, to join groups, to announce things, share photos and music – they've essentially become a social hub.
It's not surprising that kids should have embraced them so readily. It's a simple way for them to encompass all their friends, cheaper than texting and with more possibilities. The social networking sites do have age rules, but they're easily broken or evaded by those who are younger and want to get on them.
But when should you let your kids start using social networking sites? What are the safety issues involved?
What Social Networking Sites Do
Kids are prime audience for social networking sites they use them alot. They offer a simple way to connect with friends through a single space, to update people on what you're doing, drop quick notes to people, to share albums of photographs, music, play games and so on. Quite simply, they're extremely popular.
They've proved to be an Internet revolution, and made the people who started them very rich indeed.
It can all get out of control at times. There have been incidents of teens sending out party invitations to friends through social networking sites, which have been more widely distributed, resulting in hundreds of gatecrashes and thousands of pounds in damages to property. It should be stressed, though, that these cases are few and far between.
For the most part these sites function well, and they're generally safe. That's not to say they're entirely predator free, but reporting someone for inappropriate behaviour is easy.
Kids And Social Networking
Until your kids have a real social circle, which generally won't happen until they're in their teens, they really don't need to join a social networking site, there's no point in it.When your kids start expressing a desire to join, it's time to sit and have a chat about what they want from it. Do they want to join simply because their friends are there – in most cases the answer will be yes. Peer pressure is responsible for a lot of things in the teenage years, as you probably remember.
If you decide to allow them onto a site, you do need to lay down certain rules. They should publicly post a bare minimum of information about themselves, meaning no year of birth, home address or mobile or home phone numbers.
If someone they don't know asks to become a "friend" – the usual term for a contact on social networking sites – then they should refuse, especially if that person is an adult.
You need to set limits on the amount of time they can spend on the site, as it's easy to get a bit carried away, especially at first. With younger teens, have an agreement under which you authorise what pictures they can post on the site.
Make absolutely sure that your kids never issue a party invitation through a social networking site!
Kids embrace new things, that's just natural, and social networking is ideal for them. Approached sensibly, it can been a bonus in their lives. With the right guidance, you can make sure it stays that way.
You might also like...