When Should Kids be Allowed to Start Instant Messaging?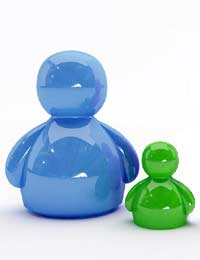 Kids think of instant messaging as an activity as normal as texting or calling friends. It's simply another communication tool for them, part of being online, which is a perfectly natural activity for them. They've grown up using a computer and would probably be utterly lost without all the accoutrements of technology.
But however much they accept it all as ordinary, what about you? What's a good age for kids to begin using instant messaging services such as MSN (which is now Live Messenger), Yahoo or AOL? What are the safety concerns?
Kids And Instant Messaging Safety
There are many benefits to instant messaging – it's cheaper than texting, for a start! – and it's a fine way of keeping in touch with friends both nearby and far away, even in other countries, in real time.
But you need to be aware of the different services and their offerings. Some, like MSN, simply allow you to chat with friends. You can add friends, block others, and also set parameters as to who can contact you.
With other services it becomes more complex, since they also have chat rooms – Microsoft dropped its chat rooms on Messenger a few years ago. With chat rooms it leaves your kids open to being contacted by all sorts of people. That's something you need to be very careful about, and a good reason not to use services like Yahoo or AOL.
Where no chat rooms are used, the danger of predators is greatly reduced, which is important to any parent. Before you let your kids use a service, take the time to check it out yourself, especially the privacy options that exist.
Where chat rooms do exist on a service, make an agreement with your kids that they won't use them (all too often they're full of people advertising porn links, and you don't want your kids exposed to those). If possible you should steer them to a service where there are no chat rooms, although that might be easier said than done if there friends are on another service. Also, if they don't talk to people who are not established real-life friends, drum it into them not to reveal information about themselves – that's vital.
How Old Should Kids be to Instant Message?
A lot of the answer to how old kids should be for instant messaging depends on when you let them begin using the family computer.
There's no real point in installing an instant messaging facility on the computer for them until they have a circle of people to message. That could have as young as eight or nine, and as long as it's one where there are no chat rooms. You should put limits on them using it, just a few minutes a day (at that age they don't have a lot to say, anyway, and they won't type well).
In general terms, kids are unlikely to need instant messaging until they reach secondary school, when they're more likely to want to keep in touch with friends outside school hours, so around 11-12, or even 13 is ideal. It's a good way of improving their typing skills, which is a definite plus, given the fact that they'll need to computer more and more for work.
You might also like...