Why Would you Want to Watch TV on your Computer?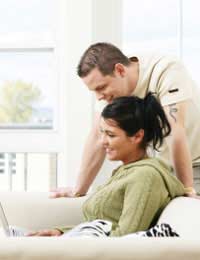 With so many channels available on satellite, cable and Freeview, the idea of watching TV on your computer might seem redundant. Why would you want to watch programmes on a computer monitor when you can sit back on the sofa and see them in a bigger, clearer format on your TV?
But the simple fact is that more people as turning to the computer as a way to watch TV programmes.
What TV Can You Watch On Your Computer?
If you've forgotten to watch something or record it on your DVR – after all, the VCR is outdated these days – then services like those from the BBC, ITV and Channel 4 are ideal for playing catch up on what you missed.
In many ways that's the main function of computers as regards TV. You can stream the programme from the site or download it to watch later, both of which are only possible because of faster broadband speeds now widely available – if you just have dial-up, then you're not going to be able to watch any kind of TV on your computer, and a number of the services are currently just available for the PC, not the Mac.
The picture and sound quality is excellent, and with a full-screen option, you really can just sit back and enjoy. The one drawback is that you only have a limited amount of time for downloading and viewing; with BBC's iPlayer, there's a window of a week for you to watch or download. If you download you then have 30 days in which to watch the show before it vanishes.
If you're away from home, on the road with your laptop, and in a Wi-Fi hotspot, like a café or bar, there are sites that offer real time streaming of a number of TV channels, so you can catch up with the news or the latest episode of your favourite soap.
With this the picture quality isn't as good, and sometimes you'll find the signal breaking up and buffering, but if it's something you want to watch, then it's definitely better than nothing.
You can also find streamed TV offerings from around the world by going to sites like WWITV, Jump TV and Joost.
There are a growing number of sites offering episodes of TV shows for download, too. This is likely to be a growing market, as more people become used to the idea of actually using their computer as a viewing platform for TV. At the moment it's bigger in the US, but that spread will almost certainly be global in the next few years. As broadband speeds continue to increase, the viability of the computer for watching TV will grow and grow.
The Future For TV On The Computer
There are already services like Apple TV that offer you the chance to rent or buy TV shows using your broadband connection, although it uses a set-top box that functions like your computer hard drive, storing the downloads.
This is certainly another avenue for the future. It's still in its infancy, but there's a definite future for it, and in the US several competing services have sprung up, as they're likely to do here.
But do we want our living rooms cluttered with boxes for cable or satellite, a DVR recorder, TV download and more? The answer is probably not, since all we end up with is a trail of wires and trying to remember what programmes are on what device.
That's where the computer can come into its own as an entertainment hub, especially with a connection to your TV – something important if you have a wide-screen of high-definition set (many programmes are available for streaming and download in hi-def, or soon will be). As services improve, hard drives grow larger as standard, and the offerings increase, then we might well find ourselves spending more time using our computer as a TV set.
You might also like...