Can you Trust Chat Rooms?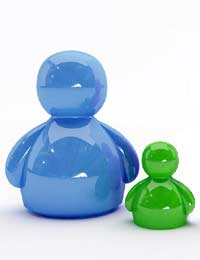 There are chat rooms and chat sites all over the Internet, and most of them have chat rooms (one big exception is Microsoft, which closed the chat rooms on Windows Live Messenger several years ago).
A lot of people, especially younger people, use chat rooms regularly, and your kids might be among them. But with chat rooms comes issues of safety and security.
What to Expect in an Internet Chat Room
Internet chat rooms have several things in common, no what which one you use. There's the chance to chat in the room itself, adding your words to those of others and indulging in general conversation. Then there are also the private messages, where someone messages you (or you message them) and have a private conversation.
In most instances there's no limit on what you can say in a private chat (some services do censor sexual words).
For most chat rooms, there's no limit on the ages of people who can enter and talk (one exception is Faceparty, which is aimed at teens and has an upper and lower age limit).
The Advantages of Chat Rooms
Internet chat rooms do offer the chance to interact with all kinds of people, and friendships and romances have grown up from them, even marriages have come from people meeting in chat.
It's possible to have a lot of fun talking "in the room" although you will find arguments flaring up. These can be contained if the chat room is moderated – if someone is on charge, keeping an eye on things. This occurs in some services, but not in others, and it does have the advantage of making sure things never get out of hand – offenders can be kicked and even banned from the room.
Chat rooms give the opportunity to talk privately with friends, too, which is good – and free – if the friend lives far away, even in another country and time zone.Often chat rooms coalesce around specific interests – a kind of music, a TV show, or all manner of things. That means they offer a forum to discuss the topic with others who are fans and often very knowledgeable.
The Problems With Internet Chat Rooms
It's a known fact that predators haunt Internet chat rooms, and that can affect the safety of kids. You do need to know when and if your children are using chat rooms, and lay down guidelines. After all, you – and they – have no idea who's really hiding behind the name and words on the screen; it might quite easily not who the person claims to be.
Given that a fair number of kids have physically met people they first encountered in chat, that's worry. Your kids shouldn't give out details about themselves – that includes their age and where they live. If they have any doubts, they should come and ask you.Security is an issue, too. In many Internet chat rooms people swap files and post links to web sites. Those can contain viruses that could end up in identity theft or put malware on your family computer, and if the file has an .exe suffix, then it's especially dangerous.
You need to remind your children not to accept files or follow links, however tempting they seem – there's absolutely no way to be certain what they contain.
There's plenty of good to be had in chat rooms, but like so much on the Internet, they need to be approached with caution.
You might also like...