Managing your Music Library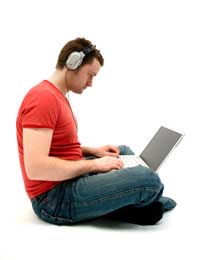 These days it's commonplace to have music, sometimes a lot of music, on your computer. If you own a PC there's even a special section for it – My Music. But if you've ripped a CD to your computer hard drive or downloaded tracks or entire albums from the Internet, you'll have discovered that keeping track of everything can quickly become a huge problem.
The Problem With Music on Your Computer
The biggest problem with storing music on your computer, no matter what format you use (and MP3 is the most portable, since it will play on any portable device or computer), is keeping track of it. That is due to the way the music or albums are "tagged," meaning how your computer reads them. So there might be several spellings on an artist's name, each will come up in a different folder. Or you might find that the folder is listed under the album title, not the artist. It can all become a nightmare, especially if you have a large music collection on your computer.
That means you have to put in time to keep your music collection organised. The best way is by artist – your computer will organise them alphabetically, but by the first letter in the name, which can also mean a lot of "The" in there! Similarly, compilation albums will all comes alphabetically in a folded marked "Various," although you might well also find a folder called "Various Artists," just to confuse things further.
With Internet music downloads you'll have the same problem – how it's listed depends on the tagging. Depending on the service you use, those downloads might be stored in a separate folder, which means you'll need to transfer them to your main music folder.
It can be labour intensive, which is why the best solution is to make the changes as you go rather than wait until you've completed a whole load of CD rips, for instance.
Storing Your Music on Your Computer
It's doesn't matter what media player or Internet download service you use for your music, whether it's Windows Media Player or the almost ubiquitous iTunes – which will take charge of a lot of your music – your music has to be available.
You can store the music on your computer hard drive, but that creates problems of its own. Not only does it take up a lot of space on your computer, but what happens if your computer crashes – something that is always a possibility, especially if you own a PC (computer crashes are rare with Macs). The answer is you lose all your music.
However, you can avoid that problem by storing your music on an external hard drive that plugs into your computer via a USB port. The big advantage to this is that your music is still easy to locate, but safe in case of a computer problem – exactly what you need. Additionally, if you upgrade your computer, or you're going to stay with friends for as while, you simply take the external hard drive with you, there's no need to spend hour after hour transferring files – your music is not only safe, but it's also portable.
You might also like...