Do you Need a PDA?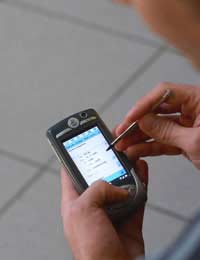 You see a lot of people with PDAs – personal digital assistants – these days. It could be a smartphone, like a BlackBerry, a Sidekick or an iPhone, or something more staid, like a Palm handheld computer. Let's face it, they do look pretty cool, and it's handy to have things at your fingertips, especially if you can use them to call and text, too, as well as for entertainment.
Businessmen find them useful, but does the average person really need a PDA or a smartphone?
What Does a PDA do?
Having a PDA is a little like having a computer that will fit in your pocket. You won't be able to do. They will allow you to browse the Web, send and receive email, and often the technology and software will let you work on documents as you sync the device up to your computer.
On top of that there will be a calendar and the addition of a to-do list you can enter and update easily. Many PDAs double as GPS or Sat Nav systems, but that depends on the software. But that's certainly not all – they can play MP3s, and some will even be able to handle video. Many, certainly the smartphones, allow you to make and receive calls and texts, and these days virtually all can connect to the Internet wireless, using a network or a Wi-Fi hotspot.
For someone who's on the go a lot but who doesn't want to take a laptop, a PDA can be a real boon. There are even those who advocate children taking PDAs to school because they can store relatively large documents.
Why Would You Need a PDA?
A good PDA can combine all the functions of a mobile phone as well as many of those of a laptop computer, and the technology is advancing all the time. Since they fit easily in your pocket, they're incredibly portable, and with more and more software available, there are so many things you can do with them, from working to playing games.
For the vast majority of people, however, a PDA simply does too much – you wouldn't use half of its functions. Executives might, since it lets them carry work and work on the move, but do you need to take files with you that way? Other than that, you can probably satisfy most of your entertainment and other needs with a good mobile phone.
Of course, smartphones fit between the two, and most have the added advantage of full (if very small) keyboards, which makes texting a lot easier for those more comfortable on computers, and many have good sized hard drives or flash drives for storing anything from audio to video to work files, and they often represent a better value for the average person, mostly to have a wider range of entertainment on the move.
Ultimately, the simple answer is that in most circumstances you don't need a PDA, and the idea of buying one for your child to use in school isn't one to really be considered. Given the cost, there could be just too much danger of it vanishing! A USB stick will store all they need for school, is just as portable, and a lot cheaper.
You might also like...