Telecommuting and Work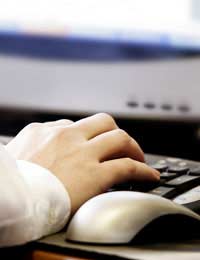 The way we work is changing. It used to be we'd go five days a week to our place of employment, put in our eight hours and go home again. Now many of those in office are putting in more time, but thanks to the computer, the idea of telecommuting, or working from home, has become quite viable.
It makes life easier for a lot of people, especially working mothers, and telecommuting one day a week, or even more, has a ripple effect of putting less traffic on the road and creating a positive impact on climate change.
Work and Telecommuting
Obviously, not everyone can telecommute. You need to be in the kind of job where it's possible to work remotely, which generally means an office job. You'll also need to be able to access your work, which means bringing things home on disc, on a memory stick, or possibly a laptop computer from work.
Since you're dealing with work, security is an issue, which means your computer needs to be free of viruses and software. If you're going to telecommute you'll need to scan your computer regularly, and if you're using a work laptop, make sure it stays secure – don't leave it in view in your car, for example. If possible, the work files should also be encrypted for an extra layer of security.
Of course, the temptation when you're telecommuting is to be a little more lax. You generally don't have to start at a specific time, so you might consider a lie-in or an extra cup of coffee.
Self-discipline is very important. Keep to the times you'd normally work, and the same pace – no wandering off to the shops unless you do it at lunchtime. It might seem that it'll be easy, but telecommuting, where you're to all intents and purposes your own boss, is quite demanding. You might have to force yourself to work, but make sure you do.
The Advantages of Telecommuting
The work flexibility of telecommuting has advantages to both employer and employee. For the employee it means no commute to and from work in the rush hour, with all its frustration, cost and use of petrol. So it's cutting down on carbon emissions, which is always a good thing in today's world.
Employers have found that people often work better from home, in surroundings where they're comfortable, and are more productive. There's a learning curve, of course, since it takes a while to ignore the usual distractions of home and focus, but once that's achieved, you can do a lot of work in the time.
When kids are on school holidays, telecommuting can be a blessing. IT shows flexibility on the part of employers and makes life much easier for the parents, not having to get someone to look after the kids, or taking holiday time or personal days – and so the work is still done.
That makes the employees want to remain with the company, and less staff turnover means lower expenses for that company, as well as a more contented and productive work force.
Although most firms limit telecommuting time, generally one day a week per suitable employee, it all mounts up.
You might also like...