Banking and Finances Online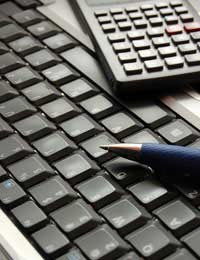 People do everything online these days – well, almost everything. One activity that's grown in popularity is online banking, which includes checking your current and savings accounts, paying bills, transferring money – most of the things you can do with money, and in a way that's much faster than queuing at the bank. Anything that makes finance easier has to be a plus.
In fact, you can undertake almost any kind of financial transaction online these days, buying and selling shares or currency, investing, anything you can readily imagine. It's certainly convenient, being able to handle your money without leaving home. But you do always need to be aware of security.
How to Start Banking Online
If you've never banked online before, you'll almost certainly have to start with a visit to the branch and sit down with a bank officer to set it all up. The exact system varies from bank to bank, but they all use a double layer of security.
You'll be given an ID number, as well as a password that you choose. Once those are set up, you're ready to fly.
Remember, however, that you shouldn't keep ID numbers and passwords by your computer, in case thieves break in. Hide them somewhere accessible (and where you'll remember where they are!). If you can remember them, that's best of all – and don't use the same password for every online account you have!
Once you've successfully logged on (and the instructions are invariably easy to follow), you'll discover all you can do online. That's transferring between accounts, paying bills, setting up direct debits, everything you'd be able to do in person except pay in cheques.Similarly, if you want to buy and sell stocks and shares, you can set up an account with a broker quite easily – in fact, you can do it all online. Again, you'll need a password, so make sure it's not the same as for your bank or anything else.
As you become used to it you'll find that you will use online banking more and more, in large part because it's so easy – and it really is pretty secure. Your money is safe under most circumstances.
Online Banking and Security
As long as you're careful, there's no reason why your finance dealings online shouldn't be completely secure. Just take some simple precautions and you'll be fine.We hear a lot about phishing attempts. These are emails you receive that claim to be from your bank, saying there's been a problem of some kind and that you need to log into your account. You should be aware that you'd never receive a generic mail from your bank – it would have your name on it.
Never click on such an email link. If you suspect it might be real, open your browser and type in the bank address. It's much safer. The addresses in those mails like look legitimate, but they're masking the real address, which is somewhere else, and criminals will get your log in details, and possibly your money and identity.
You might also like...