How Much Is Too Much Time On The Computer?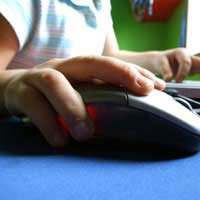 It's great to familiarise kids with computers, and let them spend time on them, whether it's playing games or for education, or even both. But how much time is good, and how much is excessive?
That's a tricky, thorny issue, and no that's not easily decided. Much of it depends on your kids and their ages. Obviously what's good for a seven-year-old doesn't apply to a teenager. But it also has to be a reflection of what you as a parent believe is right.
Computer Time And Younger Kids
When kids are younger – say until they leave primary school – you want them to enjoy a balance of activities. They spend their days at school, and part of their time there is spent learning some computer basics.
It's good for them to get in extra practice, to play games on the computer, and to use it for homework at times. However, that doesn't mean spending hours on end on computers simply because it's a rainy Sunday or holiday.
Fun as a computer can be, it's not good for younger kids to spend so much time playing games or staring at a monitor. They need to be running around and acting as kids, moving from one thing to another rather than becoming too involved in computer games, which, after all, will be the bulk of their non-academic interaction with computers.
It's best to set guidelines and even rules early on, putting limits on the amount of time they can spend on the computer. Use a timer, if you like, set it beforehand, and when the buzzer sounds make them leave the computer. If they're going on the Internet and you have an Internet filtering service, you can set a time limit for them with that, so it shuts down automatically when the limit is reached.
As to just how much time, that's largely up to you, but a good chunk, even for kids of 10 or 11, should be no more than an hour. For those of six or seven, probably 30 minutes is perfectly adequate, if only because their attention spans are so much shorter.
Computer Time And Teenagers
It becomes a lot more complicated setting time limits on computers for teenagers, since computers, along with mobile phones, form a much larger part of their lives, including social lives.
You can't really set hard and fast limits, since the computer is also a research and work tool for school projects, some of which can be quite involved and lengthy. What you can do, however, is gently suggest limits with phrases like "Don't you think you've done enough for right now? Come and take a break."
It's not perfect, and you also face the fact that teens like to stretch limits and establish their independence. That's natural, it's part of growing up, and let's face it, if their bedroom door is closed, you don't know if they're on the computer or reading a book.However, if you've established good limits as they've grown up, they might well be more amenable to your suggestions.
Ultimately, it's all a matter of good practice and to make sure your kids remember that, at the end of the day, computers are useful tools, and really nothing more than that – and that there's plenty more to life.
You might also like...