Web Surfing For Kids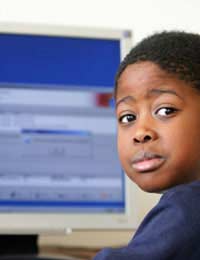 Face it, there are a lot of places we don't want out kids to go on the Internet. It can be a dangerous world out on the Web, and clicking links can brings kids to some pretty unseemly sites.
As much as we value the safety of our kids on the Internet, we also want to encourage them to explore the online world and learn how to use it; after all, it will become a bigger and bigger part of their lives as they grow up, not just in education, but in everything from education to entertainment to business.
So how do we find the line and the balance between exploration and safety for our kids on the Internet?
Where Are The Safe Places On The Internet?
There are some sites that you know will be ideal for kids, such as Cbeebies or Disney. After all, kids are their audience, not parents. But there are also a number of portals that list many of the child-friendly sites on the Internet. Simply type "where do you find websites suitable for kids" into a search engine query box and you'll be provided with a number of them.
Of course, all this is applicable to younger kids going on the Internet. As they grow older and more independent, they'll want to explore more and try different things, which is perfectly natural and understandable. But you also remain concerned about their safety.The best solution for kids up to the age of 10 or 11 is to use a filtering system that only allows them access to certain sites on the Internet – or rather, which doesn't give them access to ones you'd rather they didn't see.
Limiting Internet Access For Kids
Kids are curious, it's part of their nature, and if they're online and see a link that looks interesting, they'll click on it. It might take them to a site you really don't want them to see.
An Internet filter is software that can stop that happening. There are a large number of Internet filters for parents available that allow you to guide and limit what your children see online, and there are a number of sites that compare the qualities and effectiveness of different products.
They generally come with a list of blocked sites – the block is based on words and images found on the sites, but you can add to that manually, and many update their lists on a very regular basis. You can even set them up so you receive an email alert if your kids try to access a banned site, or even of all their Internet activity.
They can certainly be useful with younger kids for their own safety, but you shouldn't forget that the education of your kids in how to use the Internet sensibly and safely is also important and prepares them for the time – which rolls around all too quickly – when they're left to their own devices online.
If anything, education is more important than prevention. Teach them to be curious but prudent, not to investigate anything, but to ask permission before moving to another site, for instance, and explain to them why certain sites are bad, and you'll have kids who approach the Internet with a good, solid foundation.
This builds trust and awareness of the problems of the Internet, and its dangers that stands kids in good stead for the future.
You might also like...