When your Kids Want Their Own Computers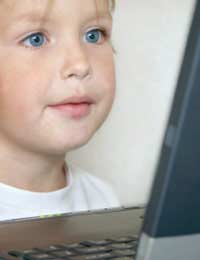 At some point your kids will to want to have the privacy of their own computers. No doubt they'll put forward the argument that they need to spend more time on the Internet or using computers for homework, and it's certainly a valid argument.
But it's only half the story, as you almost certainly realise. They've developed lives of their own as they grow older, and part of becoming a teenager is independence, which means having a computer in their bedroom away from the prying eyes of the rest of the family, whether it's a parent or a prying younger sibling.
The question is, how old should they be to allow that, and under what circumstances should you buy your kids – or kids – their own computers, and what conditions of use should you impose on them?
When Do You Need More Computers In Your Home?
If you have more than one kid, as they get a bit older, in secondary school, say, then you can have an evening logjam on the computer as they do their homework. One needs to write and print an essay, another needs to do research on the Internet. They both need the computer at the same time – and you might have brought home some work to finish.
What do you do?
At that stage it's time to buy another computer, possibly even two since it's unfair to have one for one child and consign the other to the family computer (especially if you're using it, too).
That's a perfect example. Another is when your child is a teenager and developing a life of his or her own, chatting with friends online, maybe even romance – the kind of things they want, and need to keep private. It's time to go out and buy a second computer.
What Type Of Computer Should You Buy?
Unless you have a lot of space, laptops are the ideal solution to second and third computers, certainly if you install a wireless network in your house. That way your kids can use them anywhere, especially in their rooms, be it on desks or even in bed (where teens spend a lot of time).
They're portable, take up very little room, and can do pretty much anything a laptop can do – and, depending on the condition, they can always take them off to university of a flat with them when they leave home, meaning you're not stuck with another desktop machine.
Consider buying second-hand laptop computers. You save a lot of money, and though they may not do everything a new machine will, they're probably perfectly adequate for most things, including downloads and hard drive size. Obviously check the specs first, especially the RAM, or random access memory (although you can have a shop increase the RAM), but if it fits the bill, why spend more, when many shops will give you a limited warranty of the machine and labour?
What Conditions Should You Impose On Your Kids Having Their Own Computers?
It doesn't matter how old they are, the safety of your kids on the Internet is of paramount importance to you. Because of that, you do need to impose certain limits.
You can't supervise every moment of their Internet access, nor should you want to, but do insist on a few things. They should never have much detail listed on a social networking profile, for instance, nor should they accept friends there, or in instant messaging, whom they don't know.
With people who aren't real life friends they should never divulge their full names, address or phone number, or even their complete birthdate. They might chafe and say they know what they're doing, but these are just basic safety precautions.
As they grow and become more independent they'll make more of their own decisions and their circle of friends. But as long as you've taught them wisely, your kids should be safe online.
You might also like...