Scanning for Viruses and Malware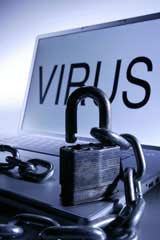 Your computer is a precious investment. You've spent hundreds of pounds on it, and you want it to work well – and to keep working well. But there are plenty of bad guys out there who are eager to infect your computer with viruses and malware, either to use it for bad purposes or simply to steal your personal details.
What Are Viruses And Malware?
A virus is a computer program that infects a computer without the user's permission, sent via email or the Web. It's technically different from a Trojan, but to all intents and purposes, they achieve the same thing – they infect your computer. Computer viruses are usually in executable files (files with the suffix .exe) which have to be opened in order to infect the computer.
A Trojan – aptly named for a Trojan horse of history – appears harmless, but similarly infects your computer, and can do serious damage to what's inside your machine.Malware is a term that covers most types of things that can infect your computer, be they computer viruses, Trojans, worms, or other things like spyware, down to the type of keyloggers that maintain a record of every keystroke you make and send it to a remote computer.
What it all boils down to, in essence, is that they all take away your control of your own computer.
What Do You Need For Scanning?
Every computer should have antivirus software, along with a good firewall and strong anti-spyware. You can buy these – often they'll come together as a bundle – or there are plenty of excellent free ones which do the job just as well; often it's a matter of personal preference as to which you use.
Whichever choice you make, you need to make sure they're updated regularly – some will do it automatically – and that you schedule regular antivirus and anti-spyware scans. With some software this is an automatic thing – you simply schedule when you want the scan to take place, which can be daily or weekly, or however you wish. With others you'll need to begin the scan manually.
Even if you use a Mac, which so far have been largely virus free, you need to take precautions.
What Should You Scan?
Every time you scan your computer, whether it's with antivirus or anti-spyware, you should scan your entire hard drive, which will usually be the C drive on a PC. If you download from the Internet regularly (or your kids do) and transfer those downloads to external hard drives, download those, too.
It's important to do a full scan regularly to ensure you're not infected with a computer virus or malware.
How Often Should You Scan?
To an extent, the regularity with which you scan your computer is up to you. Some people do it on a daily basis, and if you're online and downloading a lot, this can be a good thing. For others, once a week is adequate, and if you have good antivirus and anti-spyware software, you should be reasonably protected. But don't be lulled into a false sense of security – make sure you scan weekly at the very least. Schedule it if you can, or if not make sure you do it manually.
The more files you have on your computer the longer a scan will take, because it checks every single one. If you are somehow infected, then the software will isolate the infected file and you can then delete if once the scan has finished and produced its results. With anti-spyware, you'll invariably find a number of "cookies" to be deleted. Don't be worried by them; for the most part they're tracking devices put on by websites you've visited or associated with advertising. Delete them happily.
You might also like...