Saving Yourself from Identity Theft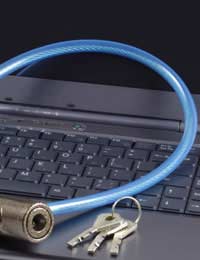 Safety on the Internet isn't just something for your kids. You need to be very aware of it too, and make sure to protect yourself from identity theft, a rapidly growing crime and one that can be difficult and time-consuming to overcome. If you've ever met a victim you'll know the problems that can ensue, and how complicated it can be to rebuild your financial life and credit profile.
What Is Identity Theft?
With identity theft it might not be that someone literally steals your identity, but you're more likely to discover that someone has found out enough of your personal details to be able to open credit accounts in your name. They then buy a lot of goods and services and the first thing you know is when you receive the bill.
They can also quite easily strip your bank account, or accounts. Again, your first knowledge might come when your direct debits are overdrawn or you try to withdraw money from a cash machine only to be told there's no money there.
Trying to repair the damage done by identity theft is a little like trying to count the grains of sand on a beach. It takes time, a lot of letters and phone calls, and a great deal more aggravation, and your credit file can be damaged for years. It can be done, and a lot have had to learn how to do it, but it's not a challenge you'd even wish on your worst enemy.It's become a very common crime, and even those who take precautions have fallen victim. But with some care the likelihood of someone being able to steal your identity becomes much smaller and make sure of your Internet safety.
Avoid Identity Theft
One way identities are regularly stolen in by a technique known as "phishing." With this, you'll receive an email saying there's a problem with the security of your bank account (chances are, because they're spam email, you'll regularly receive similar mails purportedly from banks where you don't have accounts) and require you to click on a link to log in and verify your details.
Although the link might look legitimate, it's not. It's a spoof page and the web address isn't a proper one (some email programs will say where the link really points). For your own safety, don't click on the link and reveal anything. If you want to access any financial accounts, do it through your browser and type in the URL to be sure.Remember, safety is paramount, and criminals can be very inventive.
Similarly, whenever you're dealing with your bank account or buying anything online, you should see a closed padlock in the lower right corner of your monitor. If it's not there, or the padlock isn't closed, it means that the transaction isn't secure, and for your own safety, the best thing is not to proceed and find another avenue.
It's also important for your own safety to run your virus scan and anti-spyware scan on a very regular basis. It's quite possible that scammers could place a virus called a Trojan on your computer which steals the personal details stored on your computer and transmits them to a remote server controlled by criminals, or installs a keylogger that records every keystroke you make on the keyboard – including passwords and personal details – and transmits those.
Don't use the same password for every account, and make the passwords a mix of letters and numbers so they're harder to crack.
The more precautions you take, the greater your safety – but please, never assume you're safe. You can't make yourself 100% safe against identity theft, but you can reduce the risks and increase your safety.
You might also like...