What is Spyware?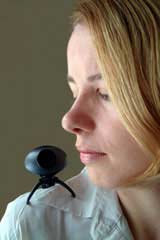 Spyware has that name for a reason. It's put onto your computer by stealth, like a spy planting something there. You don't know it's there, and you wouldn't want it, since it can intercept messages you send and even sometimes take over partial control of your computer – or at least your PC. To date, Macs have largely been spyware free.
That's why you need spyware protection software on your computer. It's becoming an increasing problem. If you don't, spyware can build up – and you're never infected by one piece of spyware software – and not only do bad things, but slow your computer down, and even cause it to crash or lose your Internet connection.
Although nowhere near as bad, you'll also find that your computer has what's called adware, put on by sites as you visit to help target ads to you.
How Does Spyware Get Onto Your Computer?
Unlike computer viruses, which are sent to you, spyware comes in through a back door, by fooling you. It can be in a picture you're sent, through a download of Active X you might be told to install for some reason, or an infected website you visit, often in the form of a Trojan (as they're called) that installs itself on your computer without you knowing. It's insidious and widespread. A US survey in 2005 showed 62% of computers were infected with some kind of spyware.
In some cases people will deliberately put spyware on a computer if, for example, they think their partner is cheating. They use what's called a keylogger that notes everything the person writes. It can either be mailed to the person who installed the software or they can check the computer later.
Also, if you use peer-to-peer file-sharing networks, be especially careful. Plenty of spyware is distributed through them.
What Does Spyware Do?
Spyware can do any number of bad things. It can collect and transmit personal information, including passwords to banking sites, which can result in identity theft. It can install more software on your computer. You could be subject to barrages of ads, some of them pornographic, you could find yourself redirected to more malware sites.Whatever happens, you'll accumulate more and more pieces of spyware on your computer, and have less and less control of it, since most spyware operates in the area called the Windows Registry. The end result is your computer becoming slower and slower, crashing regularly. You could find it hard to get and maintain an Internet connection, or even to boot up your computer at all.
How to Stop Spyware on Your Computer
There are a number of steps you can take to minimise the risk of spyware on your computer and get rid of it once it's there. If you're using the Internet Explorer browser that came with your browser, upgrade to Internet Explorer 7 (if you use Windows Vista, it's already there), which offers more protection, or another browser like Firefox. The downloads are quick and free, and installation is easy – you even keep all your bookmarks.
Put anti-spyware software on your computer. There are many different options, both free and paid. If you have bundled protection with firewall and antivirus together, check and see if you have anti-spyware as part of the package. If not, buy or download it from somewhere –look at what's available and make your choice.
Once you have it, use it to scan your computer regularly. Spyware might well still get on (the first time you scan you might find a lot), but this will kick it off quickly. You will certainly find a lot of so-called adware, mostly cookies that are put on by sites you visit. Those are harmless, but delete them anyway, as they only clog things up.
Run the anti-spyware on your computer regular, and scan your entire hard drive each time. You might still find spyware, but you'll be able to delete it quickly.
You might also like...