Internet Fraud: 10 Things You Should Know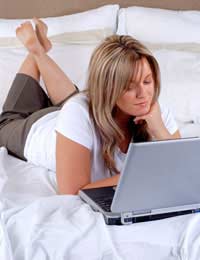 As the Internet grows and grows, so does Internet fraud of all kinds. It's become so prevalent that almost everyone gets hit – although many might not even realise it, since anti-virus and anti-spyware deals with many of the threats before we see them. But we all need to be aware of the problems.
Identity Theft Frauds
Possibly the most insidious problem is identity theft. This is usually accomplished by "phishing" mails which lead to fake Web pages that grab your login information to sites like your internet banking site etc. Some anti-virus programs will identify fake sites. Keep your anti-virus up to date, and remember – trust nothing!
Have you won a lottery or a competition? You might receive an e-mail saying you have, even though you don't remember entering one. It's a scam, an old Internet fraud. All you have to do to claim your money is send your financial details and maybe also a processing fee. Don't believe a word of it, it's a variant on identity theft, or simply a way to get some cash out of you.
Quite similar is the old chestnut of an e-mail from an African country wanting you to act as an agent for millions of pounds through your bank account, in return for a tempting share of the pot. You supply your bank details and then you get…absolutely nothing, unless you count having your identity stolen and your bank account stripped.
Parting You and Your Money
Get rich quick schemes promise a lot of money in a very short time, whether it's work at home schemes, or something requiring a small investment that's going to bring massive returns. If something seems too good to be true, then it probably is. You'll pay a small fee upfront, which goes into someone else's pocket, and you'll be lucky if you make any money at all, never mind what's been touted.
Although Internet auction sites are clamping down on counterfeit goods, they're still out there. If the price on that designer or electronic item seems too low, there's probably a good reason for it – it's not real. All too often these items will be shipped from the Far East, meaning the chance of restitution is very low, so it's definitely a case of buyer beware.
Not a million miles from this is advertising goods that don't exist. You win the auction (or buy the item from a site), pay your money and the item never arrives. On auction sites check feedback and always buy from reputable retailers only.
There are plenty of investment possibilities advertised on sites and via e-mail. Often it will be a tip on a hot new stock that's incredibly cheap now and bound to rise in price. The problem, of course, is that it might rise a bit, but the only people who'll make money are the ones behind the e-mail, who use a so-called pump and dump scheme – they dump their stock as it rises in price. Which means you're sadly left out of pocket. Don't fall for it.
Pyramid schemes are nothing new, but even the modern variants are illegal. You recruit people to sell a product and receive a commission on their sales. The initial approach you'll receive will be by e-mail, with extravagant claims as to how much you'll make – for just a low investment, of course. The only problem is that, in the end, you'll make nothing at all.
Frauds with Viruses
A newer problem is infected sites which can infect you with viruses when you surf there, so-called drive-by infections. It's hard to guard against these, although some browsers and anti-virus programs will alert you of problems. You could end up with personal details stolen, or your machine part of a "botnet," distributing spam without your knowledge.
Porn is one of the most widely accessed areas of the internet. But if you go to a porn site, you need to be very careful. Some of them contain malware – the viruses and Trojans that can cripple your computer or steal all your details. Again, good anti-virus can help guard against this – but remember, it's not perfect.
Most Internet fraud is simply a new take on ideas that have been around for years. You need to use a lot of common sense, not click on links or downloads in e-mails, and make sure you use good anti-virus and anti-spyware software, keep it updated and run regular scans.
You might also like...