Creating Music With Your Computer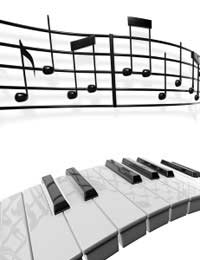 The computer, and software you can put on it, has meant that literally anyone can make music. It's something the whole family, kids included, can do for fun, and the results can be pretty good, even if you don't know the first thing about music.
It's a great activity, one that can be learning experience for everyone, and which can get kids started on music, which is no bad thing – who knows where it might all end up in a few years.
Of course, there are so many musical styles these days, but there are ways to cater for most of them.
What Do You Need To Make Music On Your Computer?
The only thing you truly need is some basic software that lets you make musical sounds. You can find some available as freeware or shareware, either for nothing or a very low price.
Something like Piano FX Studio – or anything similar – can take care of the making sounds part, and even includes a drum machine, so you can programme the beats behind your melodies. Or there's something like MAGIX Music Maker 14, which lets you build up tracks using loops of pre-recorded sounds and beats.
Of course, you need to be able to save these, or you might want to use them as a base and add more – all easily done.
Many of the shareware programs do offer a free trial, so you can see how you get along with them before you decide to purchase, and even if you do buy, the costs are very reasonable, rarely over £20.
You can even have a professional digital audio recording studio on your computer for nothing these days, and be able to add extra tracks with other instruments and mix them just as if you were in a band. Simply looking around, or typing "free computer recording studio" in your search engine will bring up a lot of choices.
It might all sound a little daunting, and there is a learning curve involved, but it's actually quite easy to master after a coupler of attempts.
If the idea of being a DJ appeals to you, there's plenty of software that will let you do that too (try djDecks 0.80 as an introduction, for instance), so you can mix together tracks from the MP3 collection on your computer. It can sync the beats and let you programme how to fade between tracks, and even add effects. You can even save the result as an MP3 to play back and share with others.
How Computer Music Making Can Be A Family Event
If you want to make computer music creation into a family event, try splitting up the tasks. The kids can come up with the rhythms (and you might be astonished at how inventive they can be) while you take care of the melody. Work together on other instruments and effects (delay or echo is always fun).
If you want to add vocals, then you will need to export the finished file to a recording studio, and use a microphone to add the vocals as a separate track which you can mix down after.
For all that it sounds complex, it's really not. Once you have a little practice you'll find that you and your family can sit at the computer and come up with a track or two of finished music in an evening. It's something you can do together, it costs nothing or very little – and you're all being creative. What could be better than that?
You might also like...