Uploading and Sharing Family Videos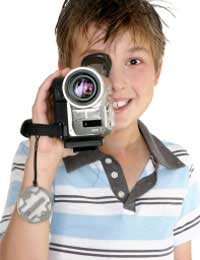 Just a few years ago no one had considered the idea of sharing videos online, never mind a site where you could do it. Then YouTube came along and became an immediate hit, and life on the Internet hasn't been the same.
Now there are any number of sites where you can upload family and personal videos, to complement the photo sharing sites.
It's estimated that around half of people with a broadband connection in the US have visited video sharing sites, although the number uploading videos of their own is much smaller.
Should You Share Videos?
Before you share videos on a site, the first question is do you even want to share videos at all. With many sites they're available for anyone and everyone to watch, which can be off-putting if you're uploading a video of a family party, for instance, which would only interest those who were there or are family members.
For a lot of people the idea of sharing private family videos on a public site is anathema, and it's perfectly understandable why – it's like letting everyone peek into your family life from their computer.
Others don't mind, thinking most people wouldn't be interested in seeing their videos anyway, which is also probably true; it's easy enough to send the URL, or web address, to those who would want to them the videos.
Is It Easy To Upload Videos?
It's incredibly easy to upload videos from your computer. Then again, it has to be a very simple process so a lot of people can do it.
The first thing to do is pick your site, and you can find many of them by typing "video sharing site" into your search engine. You should investigate several. You'll find they're free, but offer different conditions, so take the time to look at each one before making your choice.
You will need to register in order to upload videos, and you'll have to agree not to upload any copyrighted material, whilst most sites also have agreements about not uploading violent material, porn and so on – not that it would apply to a family video!
Some might require you to put the video in a specific format, but they have the tools to do that, and it's little more than clicking on a button or two to make it happen. Often you can just upload the video as it is. How long it takes depends on your connection speed and the length of the video.
Once the upload has finished, all you need to do is check it's there, make a note of the URL and you're ready to let others know so they can watch.
A Family Video Collection
Just as you can make a family photo album online, you can also make a family video collection. If you have a growing baby, a series of videos can document that growth for relatives who are far away, and with digital video cameras so common, it's an easy and sensible way to do things –simply putting the videos in one place where those with a computer can see them.
As with photos, though, remember to back up your videos onto disc or a portable hard drive, somewhere they'll be safe in case of any problems.
You might also like...