Making a Movie With Your Computer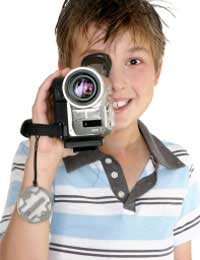 Of course, you can't actually make a movie on your computer – you need your digital video camcorder for that. But you can use software on your computer for making it into a polished article, for movies of your family, kids or whatever, to put onto a DVD, share online, or simply keep on your computer's hard drive.
It's all very useful, since you'll have the raw footage from your camera, but these days who wants something as basic as that, when the whole family can have fun with it, even making a movie with a script, editing it and adding effects.
What Do You Need To Make Movies On Your Computer?
Obviously, the first thing you need – and you won't get far without it – is a digital video camera. They're cheap these days, and will do most of the things you need, including good zoom characteristics. You don't need anything high-end and super-expensive for good movie making, just something that works when you want it.

Just as important is a script, one that involves the whole family. Maybe you'll want something live action, with family members playing different characters. Maybe it'll be what they call stop-motion, using figures you move slightly each time, or possible even a cartoon, although those take a lot of work!

Once you have all that, you're set. The beauty of making a movie is that you can shoot a scene over and over until everyone is happy with it (remember, though, that it's meant to be fun, not a chore!).
Using You Computer To Edit Movies
Once you have your footage, you need to transfer it to your hard drive. When that's complete you're ready to begin the editing process. You can buy some powerful video editing software if you like, but for most needs it's not necessary.

If you use Windows, the chances are your computer comes equipped with Windows Movie Maker; if not, it's a free download from Microsoft. Those with Macs have a tool called iMovie.

Although they obviously work differently, they achieve the same things. You can rearrange scenes, often with just a simple drag and drop, you can do good fade outs and fade ins, as well as add some simple effects.

No, you can't re-create big Hollywood blockbuster CGI (at least not yet), but for something done on a budget of nothing, with some effort – and a small learning curve – you can produce a movie that's quite polished, a definite cut above the old home movies and that you wouldn't feel bad about showing to others.

That's something you can do by burning onto a DVD (if your computer has a DVD burner; if not you can buy one quite reasonably), or by uploading to a video-sharing site.By involving the entire family, everyone feels a sense of pride about it, and it can be turned into a regular activity – the kids might even enjoy making their own movies.

You might also like...