Downloading Movies and Music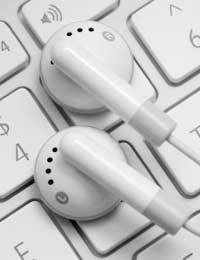 The world has shifted. In a relatively short time we've moved from consuming music on CD to buying more and more by download, and much the same with movies. The DVD market remains very strong, but the downloads are slowly gaining momentum. These days we're as likely to get our entertainment through the Internet as from a shop.
Music And Downloads
The cultural change from buying physical CDs to preferring downloads doesn't just mean a different avenue for buying music, it also means that the music we buy is different. Instead of spending well over £10 on an entire CD where we might just want one or two tracks, now we can spend a lot less and simply purchase those two cuts via download.
It's affected the whole music business, and a new model is emerging, one that offers a more level playing field for musicians of all kids. Working through the Internet means they can go it alone, without record companies, a big paradigm shift in entertainment. Paying to download music has become more than acceptable – it's the norm.
Of course, there are still plenty of people who don't want to pay for music and will happily download it illegally. The issue has moved out of the central focus it occupied not too long ago, but it's still a cause for concern. If there are people in your family downloading music illegally – and your teens might be, for instance – it's possible that your family could end up in court and with a large fine, because it is, like it or not, stealing.
It's also perfectly possible that your computer could end up infected with malware from it, because who knows exactly what is in that download? It might contain a Trojan, a virus, anything – it could result in your family computer becoming part of a botnet until you eliminate the malware.
In other words, downloading is dangerous, when you don't know where or who you're downloading from.
Movies And Downloads
It's nowhere near as common yet to download movies as it is to download music. There are a number of good reasons for that. The files are very big, so that even with a broadband connection they take a long time, unless you have a very fast connection. That doesn't mean you can't find downloads – there are plenty on offer, legal and illegal. Currently legal movie download services are more prevalent in America, but that will change, and as download speeds increase, downloads will become the main way we consume movies, with our hard drives hooked up to our televisions. Already services like Apple TV offer set top boxes where you can download movies and television shows directly and play them back on your TV – which is especially good for high definition movies.
The set-top box with its own connection is actually one major future avenue for movie downloads, since the download process won't interfere with you using your computer. But as technology advances as people devise ways to compress files into even smaller sizes with any real loss in quality – which is bound to happen – and hard drive spaces increase, then the computer becomes a far more viable option again.
That's the future – but it probably isn't too far away.
You might also like...