Do you Need to be on a Social Network?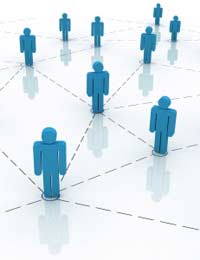 Social networking has become the buzz phrase of the computer industry over the last couple of years. You can hardly go anywhere on the Internet without reading something about Facebook or MySpace or Bebo.
For teens and twentysomethings it's a great way to keep in touch with a network of friends and even family, using the social networking site as a hub for something that is part news, part diary, part simply a place to share things. That's all well and good for them, but what about you? Is there anything in social networking for you?
The Advantages Of Social Networking
If your family is scattered all around the country or all around the globe, as so many are these days, then if you all belong to the same social networking site, it can prove to be a good way to keep in touch. It's simple place to leave messages for each other, keep each other updated on what you're doing, and be able to share family photos in one easy stroke.
Similarly, if old friends have moved around all over the place, you can easily drop them quick notes, share items, and even chat online with them.
In other words, social networking isn't just for kids. The fact that they use it so much might make it off-putting for those who are older, but really, there's something for everyone. At its heart, it's what you make of it. You can devote a lot of time to it, playing games, adding lots of applications and so on, or simply keep it simple and stripped to the basics.
However, unless you get a lot of family members and friends all together in a single social network site, then it somewhat defeats the object of the whole venture. So you do need to organise things beforehand.
Rather than entertainment, think of it as a communication tool. In that regard it functions very efficiently – in fact it's one of the most effective applications on the Internet, and one you'll probably visit often – it can become quite addictive, especially if you have family and close friends on there regularly, too.
The Disadvantages Of Social Networking
There are remarkably few disadvantages to social networking. Once you sign up, it's simply a page on the Internet that you visit as little or as often as you choose. You will find advertising there that's targeted to you and your interests, but it's generally not loud or obtrusive.
If you don't feel like using the site or going on the Internet for a couple of days, then don't. It's not an obligation, it's meant to be fun, so treat it that way.
You should, however, be sure not to openly display a lot of information about yourself. There's no need to list your phone numbers, for instance, or your address and date of birth (simply the day is fine). Why? It's easy for hackers to harvest information from these sites, especially when it's on open display (some are brazen enough to ask to be added as friends and will then steal your details). Only give the minimum amount of information necessary, in order to safeguard yourself.
You might also like...