What About Webcams?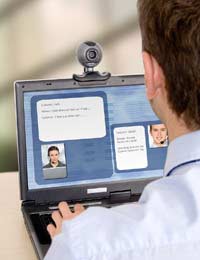 For all the talk over the years about video calling as the wave of the future, it's perhaps surprising that webcams – camera attachments to a computer that let you broadcast yourself to others – have never caught on in a massive way.
You can still find them in most shops, they're easy to install, and quite cheap – you can pick one up for about £10. There was a time, a few years ago, when most new laptop computers came with webcams built in. But somehow they've never managed to achieve real popularity.
What's So Good About Computer WebCams?
Most big instant messaging services or those that allow voice over Internet protocol (VoIP) calling, such as Skype, allow both voice and video calling at little or no cost. If you have a webcam, then the person you're chatting to through your computer can see you (and, conversely, if they have one, you can see them).
To chat to your parents, relatives far away, or when your kids leave home and set up on their own, this can be wonderful. Not only do you have words, you can also have voices and live pictures to check people are fine.
Used wisely, webcams can bring family and friends a lot closer, and that's the intention. It can be great technology for your computer to connect people so that the only better thing would be to be in the same room.
Webcams have improved, with much better refresh speeds, so there's far less jerkiness than you found a few years ago, thanks in large part to faster computer broadband speeds. Now it all seems very smooth and very real, and the picture quality has improved too.In many ways, there seems to be no reason not to own and use a webcam. They plug into your computer using a USB port, and they're usually just plug and play – it could hardly be simpler.
Why Don't People Like Webcams?
With so much going for them, including price and the chance for video communication, why haven't people readily embraced webcams? In large part, it would seem to be a privacy issue. People don't like others seeing too much of them. It can be fine for use with family, but even where people do own them, they tend to be very selective in their use.
Certainly, when you have kids, you need to be very careful, and keep the webcam unplugged unless you're actually using it. The last thing you want is for a predator to contact your child on the computer than have your kid displaying themselves to others, even innocently, on a webcam.
It can be much easier to avoid temptation completely by not owning one at all.
It's true, too, that a lot of people might not be aware that computer webcams exist, and if they did, might be more inclined to use them. If you're a fan of instant messaging with friends and family, then a webcam and microphone essentially turns your computer into a free videophone with others.
Business uses it to an extent for videoconferencing, but at this stage it remains problematic as to whether it will ever be a major factor in the home communication market.
You might also like...