Do you Need More Than One Computer?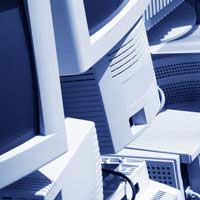 These days there's little doubt that a family needs a computer at home for communication, work and play, whether it's a laptop or a desktop. Oftentimes one is perfectly ample, especially with a small family, and if the adults in the family spend their time at work on a computer – the last thing you want when you get home is more hours in front of a monitor.
However, it's also quite common for a family to have two or more computers in the home, all on a wireless network, meaning they can all be in use and online at the same time. But when might you want more than one computer and under what circumstances should you buy more?
When Do You Need Another Computer?
Do you have kids? If you have more than one, as they grow they'll need the computer for homework. That could be for writing or just to do research of homework assignments. Either way, you're likely to have to referee arguments over who gets to use the computer and for how long. The best solution? Buy a second computer so they can both be on – and if you have three kids, the odds are you're looking at one computer per child, especially when they're in their teens and using a computer for entertainment and communication as well as school work.
That said, whilst your kids are still in primary school you should be fine with a single family computer, as it can be advisable to limit the amount of time children spend on one – they need plenty of play and exercise, too.
What if you or your partner has to do extra work from home, meaning you'd be using the family computer when other family members might need it? That creates a logjam and questions about whose needs are the most important. Sometimes having another computer can be much better than a family argument.
What To Look For In A Second Computer
The chances are that by the time you feel it's necessary to buy a second computer, your main family computer will have been in use for a few years and superseded by newer models with greater speed and capacity (new, improved models of computer appear constantly, much like cars).
So you might decide to pass on your old machine to the kids and have a new family computer. Or, as long as your main computer does all you want, you might decide on a laptop for a second computer and to set up a wireless network – which offers a lot of advantages if you're going to have two or more computers in use at the same time, since you won't need wired connections and can be online anywhere in the home or garden, and can even take a laptop on trips with you.
If you look around, there are always second hand computers for sale, often fairly recent and in good condition (you probably have a computer shop near you with a few in stock). Don't feel you have to buy brand new unless you specifically want the features a new computer offers. All too often a used machine will be perfectly adequate for a few years, and it might well come with a warranty. As long as it can do what you (or your kids) need, then why spend the extra? There's generally no need for state of the art – and it'll be out of date in three months, anyway.
You might also like...