What Is Web 2.0?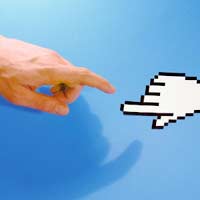 The future, people keep saying is Web 2.0. That's probably fine, and they're certainly right, but it would help if they'd explain a little about what it's supposed to be and how it differs from the original conception of the Internet.
Being online is something that occupies more of our time and work. Web sites and using the Web are of increasing importance, and so, therefore, is web design. But ultimately does Web 2.0 stand as a concept, or is it simple a natural evolution of the way we use the Internet.
What Is Web 2.0?
As it originally stood, information on the Internet – at least once it was uploaded – travelled in one direction, from the Internet to the user. We just consumed or absorbed the content and that was it.
The essential idea behind Web 2.0 is that things don't need to be that way. It allows for more interaction between the user and the Internet, in fact it encourages it.
Perhaps one of the best examples of Web 2.0 in action is the site Wikipedia, which has become a prime source of information online, an encyclopaedia many go to on as daily basis. The information is there for you to read and take, but also anyone can become an editor and use their knowledge either to add to or correct what's there. In other words, the user becomes part of the Internet, with more sophisticated web design allowing for more interaction.
Similarly, social networking sites allow for interaction. You can add pictures, information, updated your profile and send invitations and information to others on the site who are within your network of friends. People have described these social networking sites as an online revolution, but, like Wikipedia, they're examples of what Web 2.0 has to offer.
Even news sites are getting in on the act, letting "citizen journalists" add to the news with their reports and pictures.
So in many ways, Web 2.0 is as much evolution as revolution, drawing us all into being participants in the Internet rather than just consumers, and it's thanks to the advances in web design that it's possible.
The Future For Web 2.0
For those involved in web design, the increase in the number of applications that make the Internet more interactive – and interactivity is a vital component of Web 2.0 – make for exciting times. The greater the interactivity and the participation, the more the Internet becomes like a giant network, drawing on those who use it to help drive and enlarge it.
Web sites become platforms rather that just dispensers of information, which can be important and more services become online rather than available offline (what is termed "cloud computing").
Of course, there are disadvantages to all this, too. As Wikipedia has shown, people can deliberately change entries to shade or alter the truth, meaning history can be rewritten, and so there need to be editors to watch over things.
Secondly, it could also be seen that we're becoming unpaid contributors, adding to the knowledge base and using our skills without being paid for it, something some will resent. Web 2.0 is a community, and part of the idea behind community is that everyone participates to make it better.
It's not a perfect idea, but then it's worth remembering that the Internet is still incredibly young and growing at a rapid rate. So many ideas that seemed new and different just two years ago are accepted as perfectly normal now – which is a sign of our increased familiarity with the Internet and acceptance of Web 2.0. New applications that enrich our online experience arrive on a daily basis. The Web 2.0 of two years from now will likely be a more complex entity, involving us even more.
You might also like...