What do you Need in a Printer?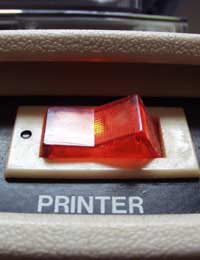 If you're going to have a computer, then you almost certainly need to have a printer, too. After all, at some point you'll want to print documents, or simply print those directions to someone's house that you found online, or even a photograph.
But there are so many types of printer available now, seemingly able to do everything except the washing, that it can be difficult to make a decision. Printers have come a long, long way from the dot matrix style of 15 years ago.
But there's a way through the maze – and the first thing to do is determine how you're likely to use a printer with your computer.
What Uses Will You Have For A Printer?
At some point, if you use a computer, you're going to need a printer. There might be a document or e-mail someone has sent you that you want to have on paper to study properly. You might have used a website to find directions to an address and need to print them up to take with you in the car. Whatever it is, you'll need some form of printer.These days printers can print in both black and white and in colour (which is useful for maps and illustrations). Even the most basic ones can handle 10 to 20 pages a minute of text, going slower for colour illustrations.
If you're unlikely to use a printer much, a basic model, without any of the bells and whistles, is pretty cheap, and easy to hook up to the computer as long as you have the software, which should come with the printer on a CD.
If you take a lot of digital pictures and want to print them up, there are printers that can work directly with cameras (which offer extremely high quality), or others that can do photos as well as text – not to mention act as a copier and scanner. These all-in-ones, as they're known, aren't too expensive any more, and deliver excellent quality and speed (which is essentially true of all printers these days.
The All-In-One Printer
The all-in-one is the workhorse of printers. You can print in black and white or colour, scan in from books and magazines with the scanning facility (which thankfully is much simpler and more reliable to use than scanners of old), use it as a photocopier, and also as a photo printer, either with photos you already have on your computer or by inserting the memory card from your computer into the reader slot on the printer.
It takes up no more room than a regular printer, and although generally more expensive than a model that doesn't offer all these extras, on sale you can find them quite cheaply – even the full price isn't too forbidding, at well under £100.
If you're not sure exactly what your printer needs will be, this might make a good choice, since it has the capacity to do virtually everything you're like to want.
One word of warning about all printers: most use ink cartridges that don't last long when you're printing at full quality. Unless it's something you really want to preserve, use the "quick print" option to save on ink. When you do need new cartridges, rather than pay a lot for those by the manufacturer, try looking either for ones that will fit made by supermarkets, or find a shop that can refill your cartridge – this isn't a problem in most instances. Either way can save you a lot of money.
You might also like...