What About a Wireless Network?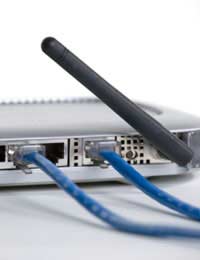 The concept of the wireless home network is now commonplace in many homes, in large part because more people now use laptop computers and want to take advantage of the portability.
Also, wireless routers have come down in price, make them far more accessible and they've become easier to install and more secure.
What Does A Wireless Connection Do?
One of the joys of having a computer is to be able to connect to the Internet, whether it's using the World Wide Web for information, shopping, or entertainment, connecting for chat and games, or to email others. To do that, you first have to be able to connect to the Internet.
For most of us these days, that's via a broadband connection, which is by ADSL – a system that piggybacks on your phone line – or by cable. A wireless connection hooks into that broadband connection and uses a transmitter to reach your computer, meaning your machine doesn't have to be directly connected.
Your computer does have to have a network card to allow wireless communication, but with most recent computers, that's not a problem; even if it doesn't, buying and installing one (or having someone install it) is very easy.
Obviously, the router, which is effectively a transmitter, does have a limited range, but it should easily cover most houses, including the garden.
Setting Up Your Wireless Connection
Thankfully, it's not rocket science to set up a wireless connection. Most routers come with all the instructions and software you'll need to establish the wireless network at home, and if you have problems, getting someone in to take care of it is easy and inexpensive.
Mostly it's a case of getting the computer and router to "talk" to each other. Once that's done you're essentially home. But you absolutely need to make sure you connection is secure by using a password. If you have visitors who want to use the Internet, you can always give them your password.
You can use any number of computers on your wireless network, which is one of its big advantages – if you have several computers, one for yourself plus one each for your kids, you can all be online at the same time doing different things, without wires trailing all over the house.
Additionally, games consoles can be hooked up to the wireless router, either wirelessly (if your console is equipped for that) or with an Ethernet cable – routers have jacks for ethernet cables – like a phone cable, but with a slightly different jack (if you have a desktop and a laptop, you can always use an ethernet cable to connect the desktop if you prefer, and wireless for the laptop).
Things To Beware Of With Wireless Networks
Wireless networks aren't perfect (what is, though?)- it's not uncommon to briefly lose your connection, for example, and there will undoubtedly be times when one computer won't be able to talk to the router, for no apparent reason. So they're not quite as reliable as a wired connection, but for the most part they do the job very well, and when you do experience a problem, using the reset button on the router will generally affect a cure.
All wireless routers can be secured using a password that you put in, and although it's an extra step, it's something you should definitely do. It stops others leeching onto your home network, but even more, it stops people hacking into it and finding out your personal and financial details, such as passwords and bank account numbers – the things you really don't want to fall into the wrong hands.
Sadly, too many people don't feel it necessary to password-protect their wireless network – make sure you're not one of them!
You might also like...