Should You Buy A Desktop Or A Laptop?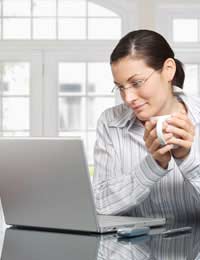 When you go shopping for computers, you're faced with a multitude of choices. Not only do you have to think about what brand you want, but also things like how large a hard drive, how much RAM, what kind of operating system the computers have and much more.
But perhaps the biggest choice is between desktop computers and laptops. Both have their advantages and disadvantages, and the choice, ultimately, is about what you need from a computer.
In terms of specification, you'll find there's not a lot between comparable models in terms of performance. You might well pay more for the laptop, but then again, if you buy a desktop you'll also need a monitor – which these days means a flat screen monitor, although that might well be included in the package price.
So what factors should influence your decision?
The Main Points About Desktop Computers
By their size and nature, desktop computers are fixed in one place – on the top of a desk! Unless you have a wireless network at home, you're generally limited as to where to put them, since you're need to be close to a phone jack or cable outlet in order to use a broadband connection.
They're generally sturdy, and, if you do need to take your desktop in to be worked on, most computer repair shops can handle the job – they're easy to work on – so you won't have to send it away to an authorised dealer for your brand, leaving you without a computer for weeks on end and wonder what decision you made when buying it in the first place.
If you have the desktop in a room the family uses a lot, it's easy to monitor your kids on the computer, which can be a huge advantage for concerned parents.
Financially, desktops overall tend to be cheaper than laptops, which, if you're buying on a budget, can influence your choice.
The Main Points About Laptop Computers
The biggest advantages of laptops are their size and portability. You're not anchored to a room by the phone jack, and if you install a wireless network in your house, then you can use the laptop anywhere. Moving it around is easy – simply pick it up and carry it. If you're travelling, nothing could be simpler than taking the laptop with you – most are wireless-ready these days.
On the minus side, most are quite fragile. Drop them and what you have is a broken computer, not something most people want to think about. So you need to be very careful.
The battery life on many laptops isn't that great, so you'll either need to make sure it's plugged in regularly to charge or have a spare battery – and those aren't that cheap. If you use your laptop a lot it can become an issue.
The biggest disadvantage of the laptop versus the desktop occurs when it comes to repair. Generally you'll have to either send the computer to the manufacturer or an authorised agent, and repairs are expensive – there's a lot crammed into a tiny space, so work is labour-intensive, and you won't get your computers back overnight.
The Choice On Computers
As a general rule of thumb, if you're looking for a single machine for home, and you're happy with it in one place, go for a desktop (you can add an extra large monitor if you want to watch DVDs on it regularly), as you'll find it will fit your needs, and in most cases repair costs and repair time will be lower.
You might also like...